1-41-12 Hakozaki, Higashi-ku, Fukuoka
Postal code 812-8651
Telephone 092-641-1123


Homepage address https://www2.lib.pref.fukuoka.jp/


(Mobile phone) http://www.lib.pref.fukuoka.jp/m/


E-mail address (general) kentosho_lib.pref.fukuoka.jp ( Please change "_" for "@".)


E-mail address (Reference services) sodan00_lib.pref.fukuoka.jp ( Please change "_" for "@".)



Books retrieval
---
TUESDAY.- SATURDAY. 9:00-19:00 (Children's library 9:00-17:00)
SUNDAY. 9:00-17:00


---
Mondays
The last day of each month
(However, it opens on Saturday and Sunday.)
National Holidays
New Year's Vacation
(From December.28th to January.4th)
The library may also close occasionally for inventory or other special purposes.


---
Library Cards may be issued to anyone who lives, works, or attends school in Fukuoka Prefecture and there is no charge for this.
Please fill out the library card application form and present one piece of identification with your name, birthdate, and current address.
(Certification of alien registration, driver's license, or student ID card etc.)
Your library card will be issued to you immediately.
Library cards are valid for three years from the date of issue.

* You can use a current library card , if you hand it in at the circulation counter after it's expiration.
* Reissuing library cards may take up to one week to process.
* You are kindly requested to notify us immediately if you change your address or phone number.


---
Books and magazines; You may check out up to 10 items for 2 weeks at a time, with your Fukuoka Prefecture Library Card.

* the following materials are for use in the Library only;
Current issues of magazines, journals, Newspapers, reserved books, reference materials
Rare books, special collections


---
You are responsible for returning borrowed items on time.
When the library is closed, please use the "Book Drop" at the service entrance.
You may use the "Book Drop" at any time.


---
The library has computers available to the public with internet access.
A patron may reserve a computer for a session lasting up to 30 minutes.

* If you want to use them, you should ask staff at the circulation counter.
* You cannot print, download, send or receive E-mail, or play games.


---
Please feel free to read any materials on the shelves.
If you want to read books which are stored in the stack room, please print out a receipt with the library computer system,
"OPAC (Online Public Access Catalog)"
Please consult a librarian if you can not find the materials you are looking for.
If we do not have the books or magazines you require, we will look into buying them or borrowing them from another library.

* This does not apply to CD, DVD, or video tapes etc.


---
The reference librarian provides an information and enquiry service on all subjects.
The 2nd floor (general thing)

092-641-1128
The 3rd floor (thing about Fukuoka Prefecture)

092-641-1126
Children's library (thing about children's books)

092-641-1161



Reference address sodan00_lib.pref.fukuoka.jp ( Please change "_" for "@".)


---
You can photocopy any materials to the extent of copy right law in the library.
Please fill out a photocopy application form at the circulation desk on the second floor or news paper's browsing room.
Copying and A microfilm copying are on a self -service basis for ¥10 per copy.
Color copying is on a self-service basis for ¥30 per copy.


---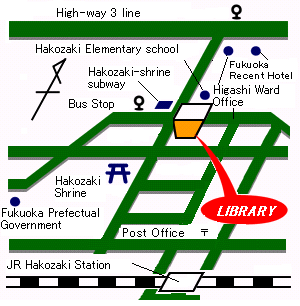 About 3 minutes walk from 'Hakozaki-miya-mae' by subway
About 3 minutes walk from ' Hakozaki' bus stop by Nishitetu bus
About 15 minutes walk from 'Hakozaki' station by Japan Rail Kagoshimaline


---

Home / Page Top